Comments Off on CCleaner Professional Review 2023

Let's cut to the chase and get straight in to our New CCleaner Professional review for 2023. For sometime now, CCleaner has been widely regarded as the solution to keep PCs and Macs in optimal shape. An award-winning product, trusted by millions the world-over, it claims to keep your computers fast, clean, and secure. Easy to use with an intuitive array of features, it purports to possess the power to transform your computer's overall performance. It's USP is its ability to optimize your PCs and Macs with one simple click! For a short time only, get the best deal on CCleaner with this CCleaner Coupon Code and save up to 31% on CCleaner.
Summary
A tried and tested system cleaner that has stood the test of time.
CCleaner Professional

The CCleaner Professional version sports an array of key advantages over the free version. Pro includes Complete Cleaning, Real-time Junk Monitoring, Automatic History Cleaning and Automatic Updating. It also has its very own Clone Files Checker which empowers users to locate and delete duplicate files. Like the other desktop versions of the software (excluding the Mac variant) it runs seamlessly on Windows including older versions such as Windows 10, 8.1, 8, 7, and Vista. I mean hey, it'll even run on XP! Installation is a doddle and shouldn't take no more than a minute to setup.
CCleaner Pro Plus
CCleaner Professional Plus is everything you loved about the Pro version and more. Essentially it's 4 programs in 1 pacakage. So, in addition to CCleaner Pro's Complete Cleaning, Real-time Junk Monitoring, the automatic updates and so forth, you are also equipped with the power of defragmentation to defrag your drives, File Recovery to recover lost files, and Hardware Analysis to monitor your hardware. The 3 additional programs included are:
Speccy: Examine your computer's hardware in forensic fashion with Speccy. Get comprehensive analysis at your finger tips with real-time, detailed information on hardware components such as motherboards, CPUs, RAM, graphics cards and more. Monitor component temperatures to ensure everything is working optimally and functioning as it should. The snapshot feature also allows users to take a snapshot of the inner-workings of your machine. Useful in situations where you may want to compare and contrast operating figures.
Recuva: Recover deleted files. So whether you have lost files by accidental means, or due to a corrupted drive or operating system, or even a newly formatted drive, this is application to you can rely on to peform a "superior file recover." Recover images, music, documents, videos, emails and more. The software also has a special feature that lets you securely delete files for good.
Defraggler: Speed up your system with this rapid defragmentation tool. Set the software to defrag single files or entire drives. Supports HDD, SSD drives, NTFS and FAT32 formats. Schedule your defragmentation requirements and sit back and let the software do the rest. Easy to use, the user-friendly interface is suitable for beginners and advanced users alike.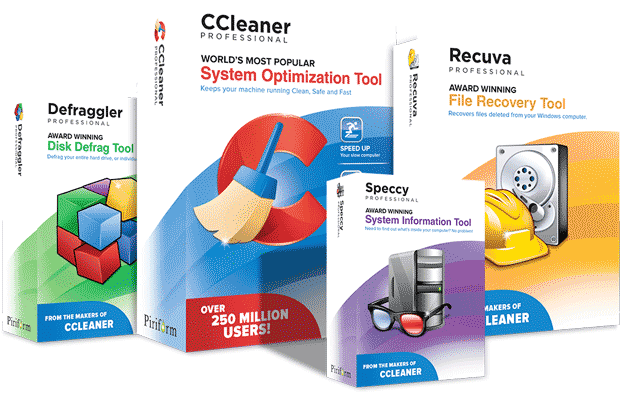 CCleaner Business Edition

The Business Edition of CCleaner which is currently being used by many of the top FTSE 100 companies is designed to protect your data and keep workstations in an optimized condition. It will optimize endpoints, improve productivity, prevent data theft, and reduce IT support costs. An applicational asset to your company, it will extend the lives of your workstations. It'll also keep them safe and secure in the process.
CCleaner Professional for Mac

The number one cleaning application for your Mac, this CCleaner Professional for Mac will make your Mac faster and more secure. Just like a PC, Macs store unused files and junk alike. This software will enable your system to run quicker. It'll speed up boot times with startup management functionality. It will also reduce clutter thereby enabling your system to work to the best of its operational abilities. To thank our visitors who have read this review, we have made a special CCleaner discount available that will save you 65% on all orders.
So let's sum up this CCleaner Professional review for 2023 with one important question: Is CCleaner any good?
CCleaner in our experience is a very good, very efficient application for maintaining the performance of your computers. It is safe to use, and is not malware. In fact, this software would compliment an antimalware solution perfectly. One of the features of the software we found particularly useful was Browser Cleaning. Enabling this feature saved us a great deal of time. Traditionally, we'd have to manually clean our cookies, delete history, etc… with this program, however, you can set the software to do it all automatically! On the whole, it's a complimentary addition to any setup.