Bitdefender GravityZone Business Security Coupons
Latest 65% Off Bitdefender GravityZone Business Security Coupon Code for 2021. Bitdefender GravityZone Business Security, trusted by a large number of businesses throughout the world, is the industry standard for companies that are serious about keeping their workstations safe and secure. Cyber attacks pose a huge threat to companies operating within a digital space. Protect your company, install, and let the software client take care of the rest. Award-winning elite products from an elite level antivirus provider.
https://www.bitdefender.com/business/smb-products/business-security.html
New Coupon Codes for March 2021
Currently 4 active discount coupons
Bitdefender GravityZone Business Security Coupon Code: 65% Off
Bitdefender GravityZone Advanced Business Security: 65% Off
65% Off Advanced Business Security
Buy Bitdefender GravityZone Elite with 60% Off
Take up to 60% off GravityZone Elite
Bitdefender GravityZone Coupon: 50% Off
Unreliable Coupons
Currently 0 unreliable coupons
Sorry, no coupons found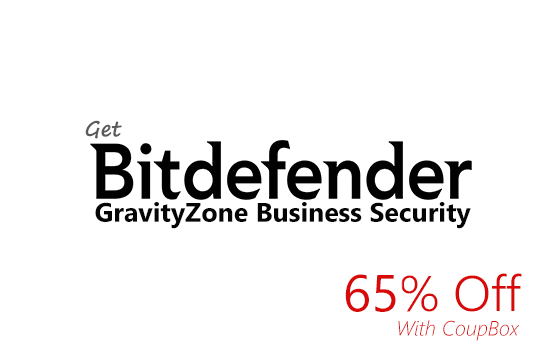 Put simply, using your Bitdefender Business Security Coupon is a straight forward process. All you're required to do is select your preferred deal, press the relevant tab to activate your deal. Then copy and paste the discount code in the checkout area and buy the software for the lowest price. All the deals here are updated frequently so you can rest assured that you're getting the best available offers.
Business Security
In this new digital age, the rise of online business has been an exponential one. One upside of this is that companies - irrespective of size and stature - can attract custom and generate sales globally. The downside, on the other hand, is safety. Digital threats, hacking, malware, and so forth can be potentially catastrophic for companies operating in a digital space. This is where Bitdefender's class-leading business security solutions play a critical protective role. Protecting your business is paramount, installing software of this type onto your workstations is crucial.
Advanced Business Security
For all those corporations that want to push the security lever up another notch, the Advanced Business Security variant of the software is on hand to do just that. Providing comprehensive protection for both physical and virtual desktops, this is a high-end security solution that delivers.