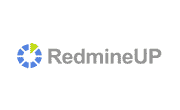 Store RSS
RedmineUP Coupon Codes
See below for the latest RedmineUP coupon codes. RedmineUP, formely known as RedmineCRM, produce a fine assortment of highly-regarded plugins and themes. Some of the top plugins in their range include the Agile plugin, Helpdesk plugin, CRM plugin, the Invoices plugin, the Finance plugin and much more. As for their themes, they all utilize HTML5 and CSS3 codification and are compliant with best practices. Their top-rated themes include: Circle, A1, Coffee, Highrise, and the RedmineCRM theme.
Active Coupons
Currently 13 active coupons
Redmine Products Plugin: 10% Discount
10% discount on the Redmine Products plugin with this special offer. This special offer will be applied at checkout.
Redmine Mailchimp Plugin: 10% Off
Get 10% off the Redmine Mailchimp plugin with this exclusive offer from RedmineUP!
RedmineUP Cloud: 10% Off
Get 10% off  RedmineUP Cloud.
Get 10% off all Medium, Business, and Enterprise packages. Simply click the redeem offer button then edit your selected options on the order page to get your desired discount.
Unreliable Coupons
Currently 0 unreliable coupons
Sorry, no coupons found